This is an introduction to pediatrics, created for our sister site OphthoBook.com. In this video, we cover all the basics of the pediatric eye exam, including:
Checking Vision
Retinoscopy Theory and Practice (animated videos!)
Tropias versus Phorias (more animated video!)
Amblyopia
Leukocoria (including congenital cataracts and retinoblastoma)
Retinopathy of Prematurity
Overall, I think this video came out quite well. The demonstration videos on retinoscopy and tropia/phorias are quite useful.
Screen Captures from this Video: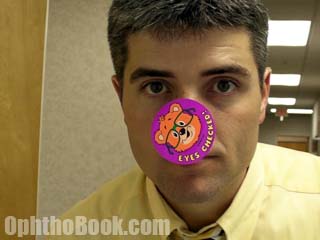 Children are difficult to check vision. Depending upon the age, a child may only blink-to-light, fix and follow, or even read pictures. Here are a couple of tips for checking a kids vision.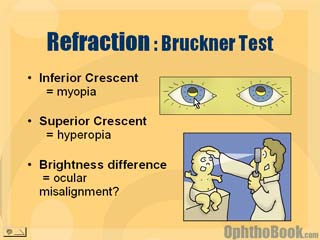 The Bruckner test is a way to estimate near-sightedness versus hyperopia.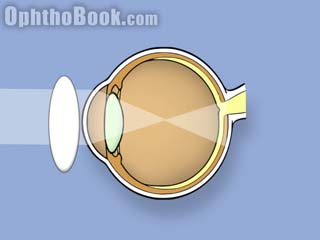 Retinoscopy is a difficult concept to understand. Here we explain how light focuses inside the eye, and how examining the red-reflex can help you estimate a child's glasses prescription.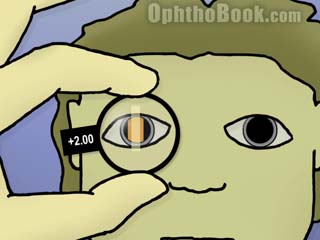 This animated sequence shows the "with" motion you get. It then procedes to show the correct red-reflex you should see, followed by the over-corrected "against" motion.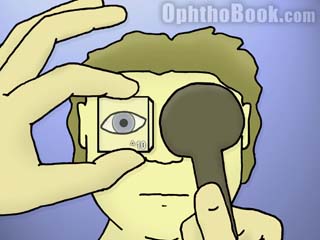 This animated sequence shows the difference between a tropia and a phoria. Also, the cover-uncover and cross-cover tests are demonstrated. Finally, you'll learn how to correct deviation using prisms.

This animation shows the wiring involved with amblyopia, and why we patch eyes to correct vision.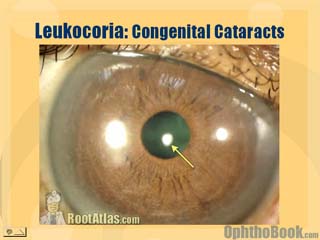 Leukocoria (a white colored pupil) can be an emergency. In this case, it is caused by a small congenital cataract.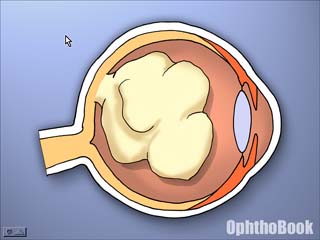 Retinoblastoma is a more serious cause for a white pupil. This cancer can kill if it tracks down the optic nerve.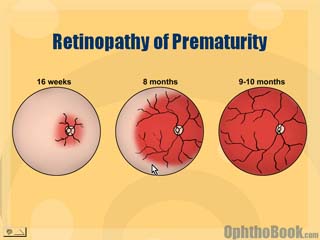 The video concludes with an explanation for ROP (retinopathy of prematurity) … what causes it, and why we perform laser to treat it.