This video lecture describes the process of loose-lens retinoscopy from start to finish. You'll learn the theory of how retinoscopy works to estimate glasses prescription, then run through 20 different patients with increasing complexity of astigmatism error. This is probably the best presentation on the internet to learn this difficult-to-learn skill:
Download:
Retinoscopy.m4v (195mb)
ScreenShots/Notes from this Lecture: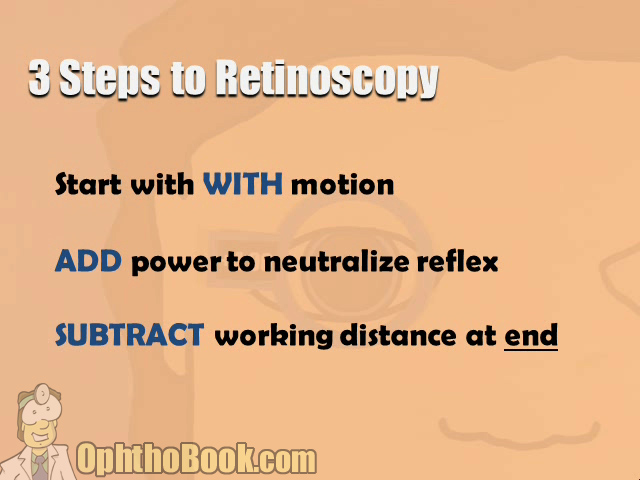 Three Steps to Retinoscopy
1. Start with WITH motion
You need to the retina reflection to be "with" in all directions. If you see "against" motion in the beginning, you might need to hold up a -2.00, -4.00, or even a -10.00 lens in front of the eyes to get that "with" motion. Only then can you proceed without getting confused!!!
2. ADD power to neutralize reflex
Slowly add more power (plus power) until you neutralize the red-reflex. If you see "against" motion, you've gone too far. If the patient has astigmatism, you may get different powers for each axis … don't worry. Just set the lenses aside so you can calculate the prescription later. Remember: the sphere power is your first lens, the cylinder power is the difference between the lenses. The axis is the angle your light beam ends up at (see example below)
3. SUBTRACT working distance at end
The last step is to subtract -1.50 from the sphere.