This video covers common eye trauma like corneal abrasions, lid lacerations, and globe rupture. This lecture is one of the longer videos in this series, but I think you'll find it worth your time. I've presented a number of common ocular traumas that we see in ophthalmology (from corneal abrasions, to eyelid repair, open globe, lateral canthotomy, hyphema, and iritis). Each of these conditions I've captured on video, and so this presentation is very multimedia driven. Below you'll see some of the captured snapshots.
Screen Captures from this Video: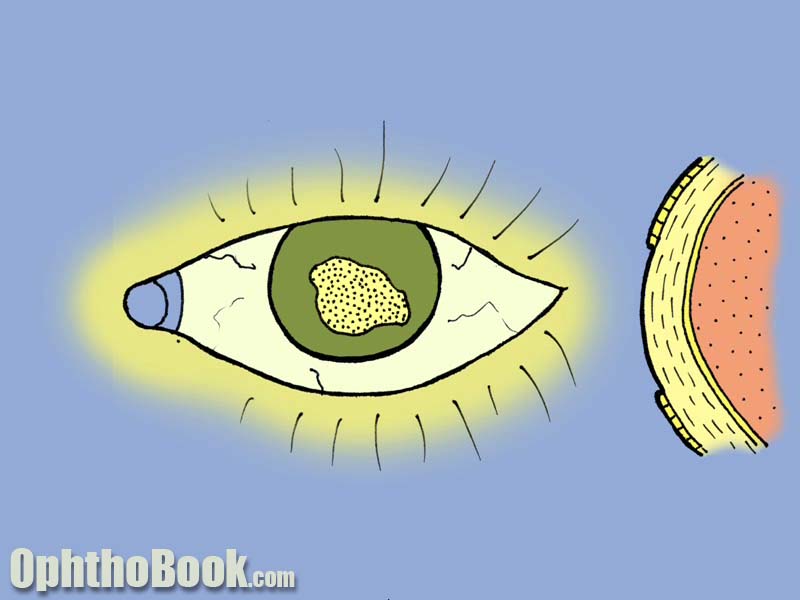 This graphic shows the epithelial loss of corneal abrasion. The cornea has 5 layers, and it's the surface epithelial layer that is so easily rubbed off. Fortunately, this layer also regrows and heals quickly.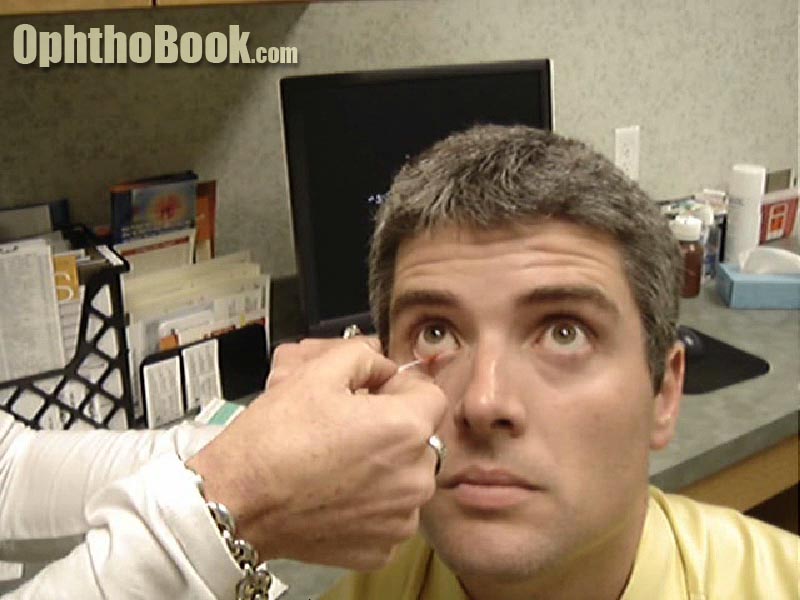 Fleuroscein strips make it easier to check for corneal staining. Regular dye drops work well, but the fluid tends to pool at the bottom of the eyelid and makes spotting small abrasions difficult. Sometimes "less" dye is better.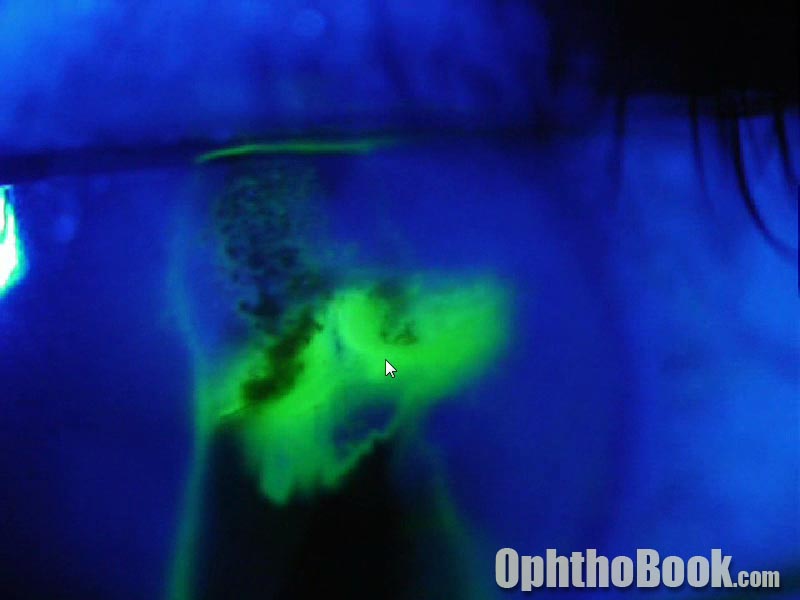 The Seidel Test for finding corneal laceration. This involves rubbing a strip of fleuroscein paper over a potentially leaking corneal wound to detect aqueous egress.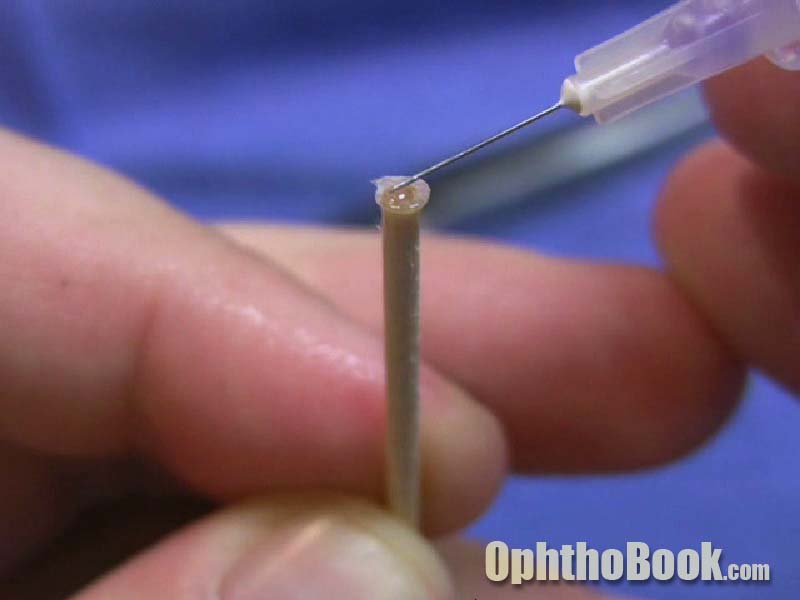 Creating a dermabond patch to stop corneal leaks. This is an uncommon technique that I've used with good success on occasion.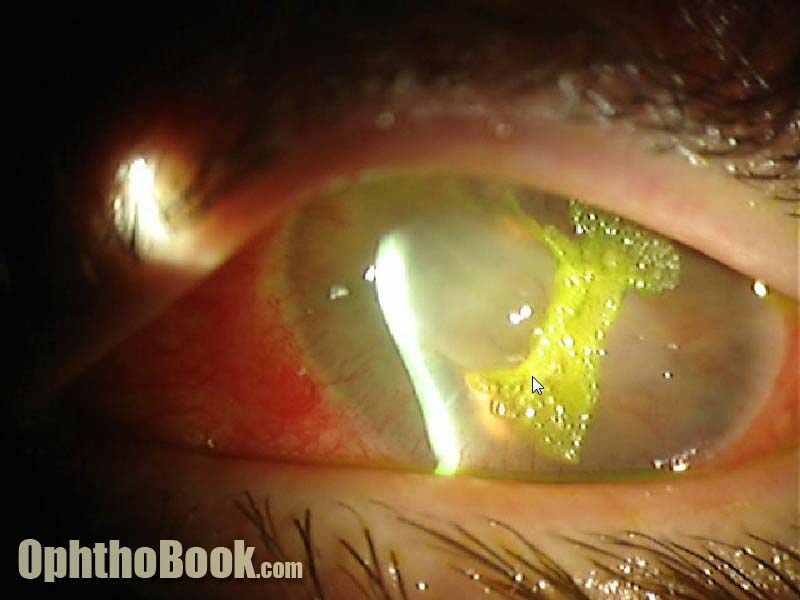 Corneal glue for a perforated cornea. I find this material hard to use.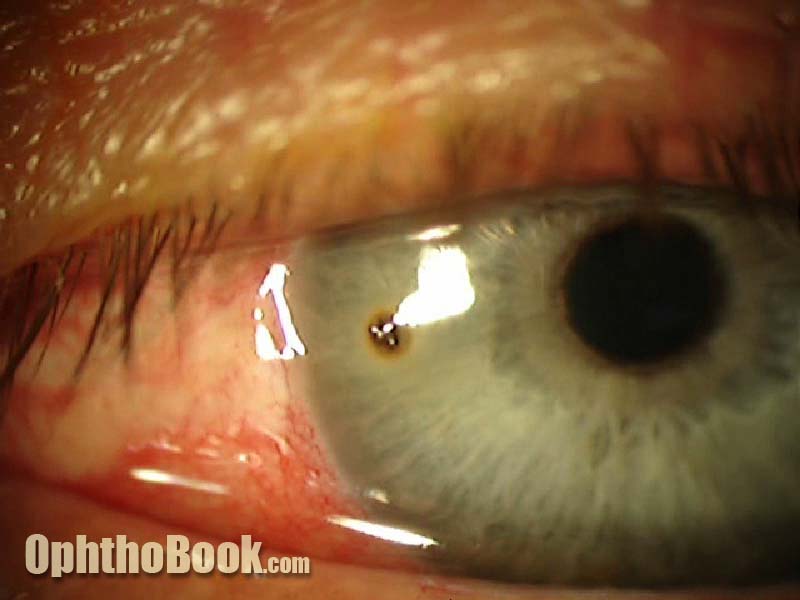 A metal foreign body on the cornea. This finding is very common, and I see several patients a week with metal flakes stuck on the corneal surface. Many of these patients are grinding metal … usually wearing protective eyeglasses. The metal bits seem to get in their hair, then fall into the eye later and rust into place.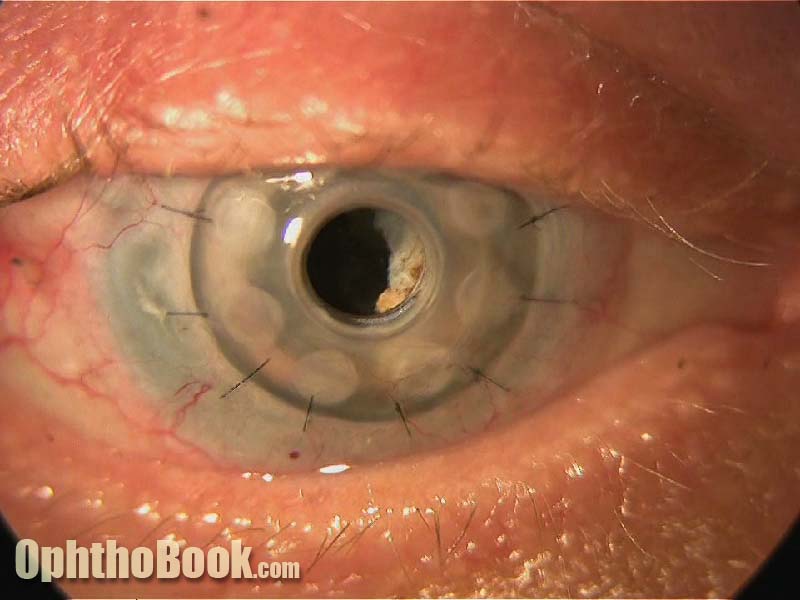 KPro corneal transplant after chemical burn. These prostetic corneas work, and are sometimes the only option after failed corneal grafts.

Checking the pH value after a chemical burn is important. Debris trapped in the fornices (under the eyelid) can cause continous pH imbalance, so keep checking.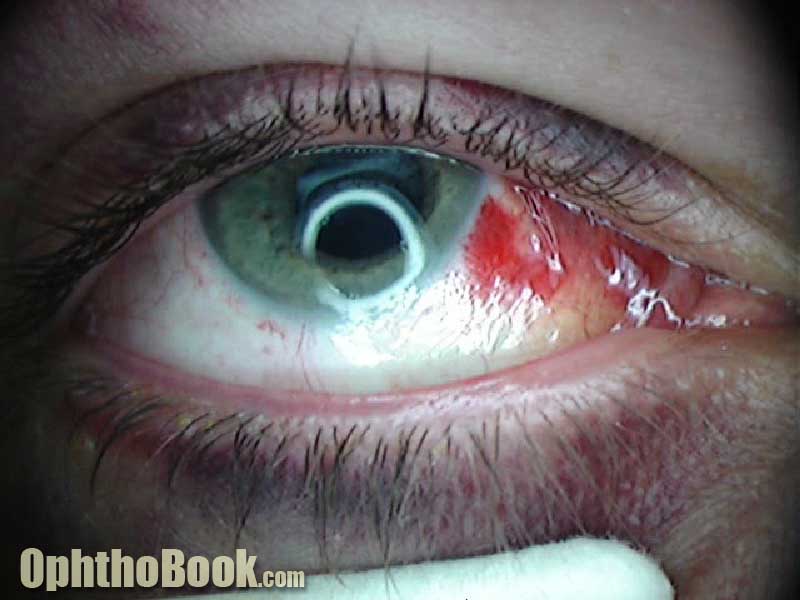 A subconjunctival hemorrhage looks impressive, but is almost always harmless pooling of blood under the skin. They go away after a week or so.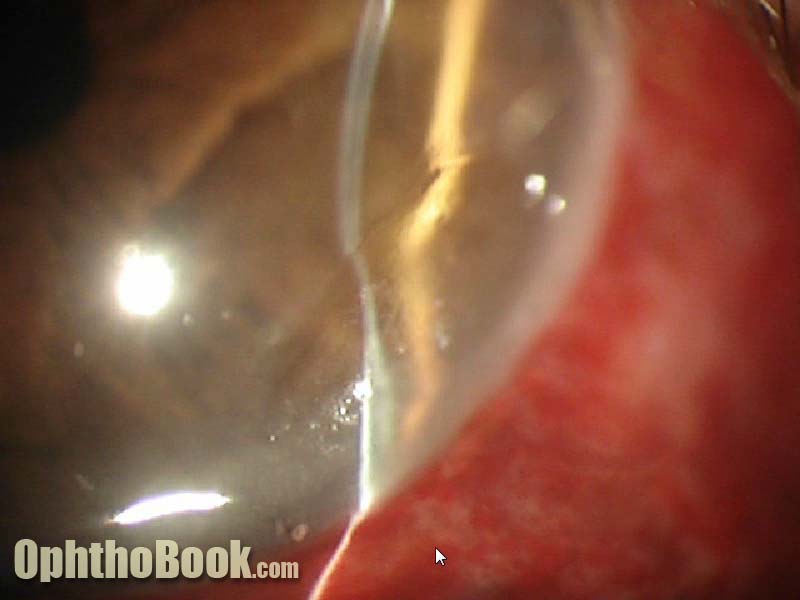 Dellen of the cornea from conjunctival hematoma. These occur when the conjunctiva swells (such as from a SCH hematoma or bad chemosis) such that an area of the cornea begins to dry. Classically, seen with thinning of the cornea without gross dye staining.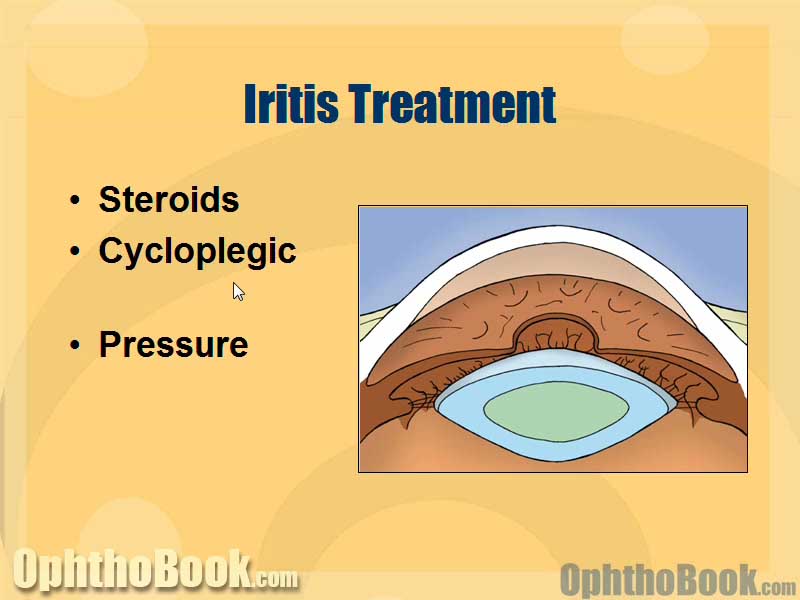 Iritis treatment involves steroids and dilating drops. Steroids get rid of the inflammation, while the dilating drops help with photophobia and help avoid iris synechae.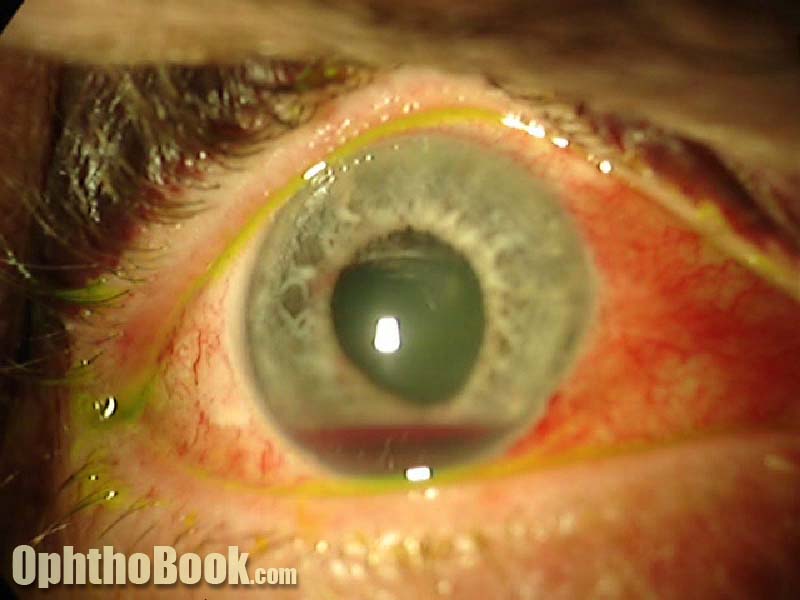 Hyphema is a layering of blood in the anterior chamber of the eye. A "microhyphema" is when there is blood, but not enough to layer out.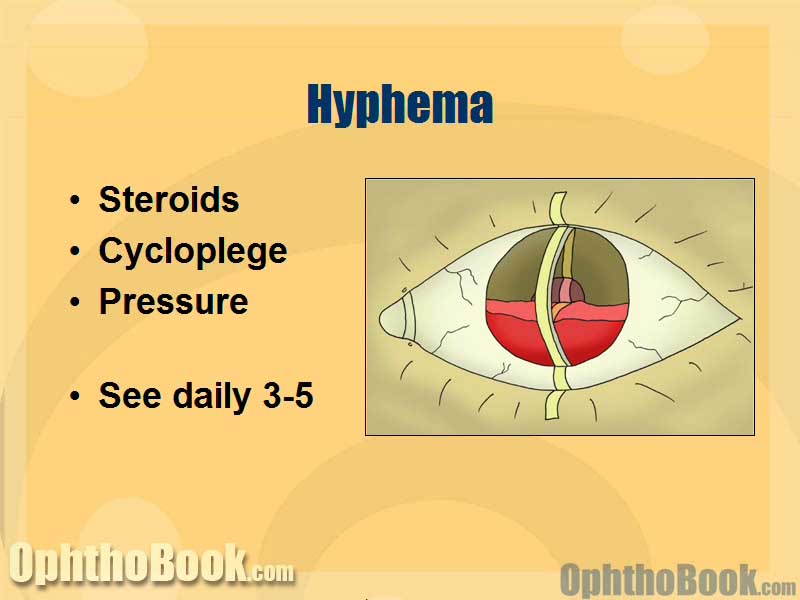 Hyphema is treated similarly to iritis, with steroids and dilators. You need to watch out for pressure spikes … especially around days 3-5, as this is when iris clots begin to retract and rebleeding can occur.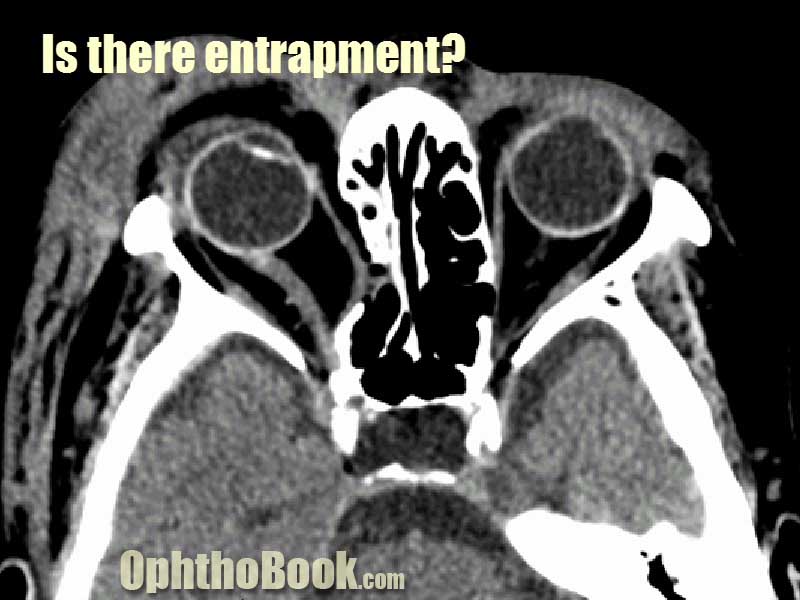 Entrapment of the rectus muscle. This photo shows a medial wall break. The orbital floor is actually the bone that breaks most often.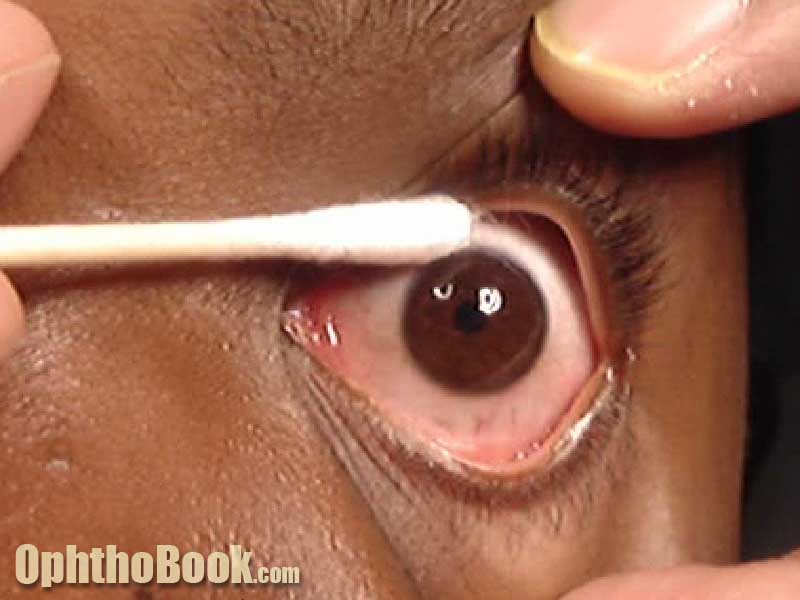 Forced ductions to detect inferior rectus entrapment. This photo shows soft ductions using tetracaine and a q-tip. However, this method has limited utility and you often need to use forceps and grab the eye at the limbus.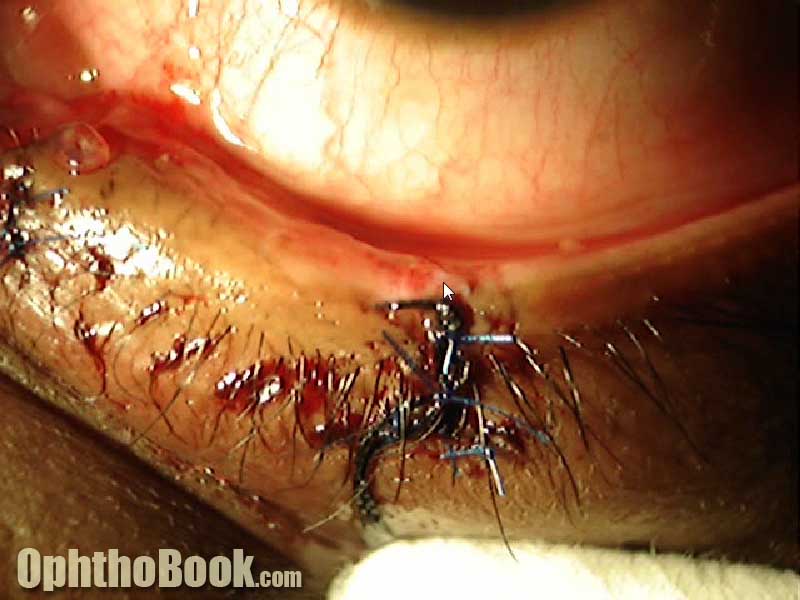 Repair of a lid laceration using nylon sutures at the anterior and posterior lamella. You can see the plastic mono-canallicular stent in the punctum at the left edge of this photo.